Point Pleasant Sheep Dog Trial 2011
Fred Temple takes FIRST PLACE in the Open with Jack!
Judge: Micheal Shearer of the Scottish Highlands, UK.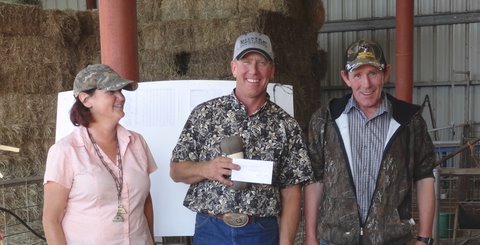 Yvette Cook, competitive sheepdog handler:
"Over the years it has become clear when you buy a pup whose parents are working dogs, that pup will be able to work stock at some level. But it is the dog's temperament that determines your joy, or not, in developing that capability."
"My Jack x Mist pup (July 2011) has a very even and issue-free temperament. And he works. Here are a few attributes he possesses, speaking to that point:
All Business
He stays focused on tasks, whether it is herding or household obedience. He responds to distractions but returns to task easily.
Independent and Biddable
He takes verbal corrections well to shape behaviors–on and off stock.
He does not need constant reassurance or attention.
Content playing, working, and crate relaxing. His ability to relax easily and in a variety of situations reflects a good temperament.
New Places
Handles travel well. No behavioral changes whatsoever on the road. (Note: I think this is huge. He eats, sleeps, eliminates, and plays just like at home–absolutely the same–so he lands with a good mind.)
He transitions to new environments with a curious , positive attitude.
Friendly to new people and children.
Stock Work
Positive and self confident. Has been on ducks, goats, and sheep in round pens and arenas, so far. Adjusts accordingly.
In a nutshell: Spike is an easy keeper with a strong, solid presence and attitude, on and off stock."
Glen McGowan:
"Bailey is a gem. She is my fourth Border Collie, and no two have been similar."
"At three months old, I worked her on ducks and there has been no turning back. She is very social with the other dogs, but herding comes first. I almost entered Bailey in her first trial at six months of age, but didn't want to deviate from my training plan which is very positive and proactive. We could have done a trials arena course at the started level but I would have used a bunch of downs, walk-ups, and stays. She is very obedient to those commands, but I don't want her to herd that way. Now she is learning to rate when fetching. To me, she is a wonder dog."
Marla Corey, competitive sheep dog handler:
"I purchased Cait in August 2011, and what a wonderful pup she turned out to be. She has a lot of personality and her temperament is wonderful. She gets along well with people and dogs."
"I went to Caldwell, Idaho, on November 18th and 19th to work my 3 1/2 year old trials dog and to see how Cait would perform on sheep. WOW is all I can say!! She is 15 pounds of dynamite. She approached the sheep with confidence, her tail was low to the ground, and she showed us all that she really wants to be a sheepdog!! She has lots of eye but releases pressure nicely, did mini outruns — going in both directions, and balanced beautifully at the top for a 5 month old pup. 
I am really excited to see how she develops over the next few months. She is smart, keen, and confident! Cait is just what I have been looking for in a puppy."